StumbleUpon – A Blogger's Secret Weapon
Are you a StumbleUpon user? If you are not, you are missing out on potentially 3 million readers seeing your blog articles. There is no better tool for beginner bloggers to get traffic for their blogs.
StumbleUpon was the most effective social media tool that I used to attract 190,000 page views in just three months. In fact, StumbleUpon has delivered over 10,000 page views to one of my posts alone. There simply is no better source of consistent social media traffic than StumbleUpon.
What is StumbleUpon?
For those of you who have not used StumbleUpon, it provides a unique way to surf the Internet. By using StumbleUpon's social browsing toolbar, you can connect with other bloggers and readers that share your interests. This is perfect for you niche bloggers out there.
Unlike some other social media sites, you will always be able to find an audience interested in your niche at StumbleUpon. For example, I also write a blog that discusses mmorpgs. It can be difficult to find social media sites to promote articles about video games. However, there are tons of StumbleUpon users that are interested in this niche.
Where can you find me on StumbleUpon?
I have been a StumbleUpon user since March 2007. Here is my StumbleUpon profile page. Please visit it, check it out and add me as a friend. If you are interested in blogging and social media, I think that you will really like my StumbleUpon blog. My StumbleUpon blog is a list of the websites to which I have given a "thumbs up."
How do you use StumbleUpon to promote your articles?
1. The first step you must take is to download the StumbleUpon toolbar. The StumbleUpon toolbar allows you to find great websites, bookmark websites that you discover, send more traffic to those websites, search for articles in your niche, and much more. I will be writing more articles on how to use the StumbleUpon toolbar to take advantage of all of StumbleUpon's features. Subscribe to Newest on the Net now to make sure you don't miss any of these articles.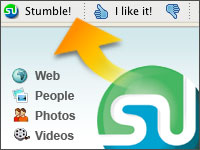 2. After you have downloaded the toolbar and joined StumbleUpon, become a part of the community. This is the most important thing to understand about social media sites. In order to achieve success with social media sites, you have to become a part of their communities.
Lucky for you, StumbleUpon has one of the best communities. The users are friendly and discover some great online content. You need to recommend sites to others, make friends, and provide well written reviews. Just like you want your blog readers to value your opinion, you need your StumbleUpon friends to value your opinion. Don't be a social media abuser.
3. Once you have been using StumbleUpon for a month or so, you can start promoting your own content with great results. Every time I stumble one of my own articles, I get at least 200 to 500 views. As mentioned above, one of my articles on Firefox tips received over 8,000 views from StumbleUpon.
4. Other keys to gaining traffic with StumbleUpon:
Use all of SU's features. Stumble photos, stumble great sites you find, stumble great videos, stumble great blog articles (maybe like this one!).
Make friends. Don't forget that StumbleUpon is a SOCIAL media site. The point of StumbleUpon is to share great content with people who share similar interests. Start by adding me as a friend.
Stumble great content. One key to increasing your StumbleUpon power is to give thumbs up to sites that other StumbleUpon users will thumb up. The more people who like your articles, the more traffic your stumbles will generate.
Send messages to other StumbleUpon users. One of my favorite features on StumbleUpon is the ability to send message to other members. This is a great way to network. I ofter send messages to other bloggers.
If you want more information about StumbleUpon, here are 65 Articles About StumbleUpon. Of those 65 articles, you won't want to miss these,
My next article in this series will cover some very powerful, but under utilized features of StumbleUpon. Again, don't miss my future articles. Subscribe to Newest on the Net.
Please share with me your StumbleUpon profile name. Additionally, please share your personal experiences and opinions of StumbleUpon. What topics do you think are most popular on StumbleUpon? What features are your favorite? Who is your favorite Stumbler?