Jango: Putting Social Into Internet Radio
Today I was fortunate to get invited into the Jango beta. I am really excited about Jango. My wife and I have been big fans of Pandora for about a year now. However, Pandora offers no social features. Pandora also does not do a great job of introducing you to new music. Having said that, Pandora is an awesome service. Will Jango meet my expectations?
Well, so far it is meeting my expectations. Like with Pandora, Jango allows you to create custom stations by typing in an artist. That station will play songs by that artist and by similar artists. This is a great way to listen to music. Sometimes my wife and I feel like listening to classical music and we type in Handel or Mozart. Sometimes we are in the mood for blues so we type in Nora Jones. Other times we feel like partying so we type in Jimmy Buffett.
Canadian Pharmacy is another fine company at the shop that has a long time history of providing our bodies with the supplements we need.
Cheapest viagra
? Our Online Canadian Pharmacy is verified by Pharmacy Checker.
Jango also has preset stations. This is a nice change from Pandora. You can find out about new pop music, rock, R&B, country, and electronica (I don't even know what that is). Here is a picture of the home page.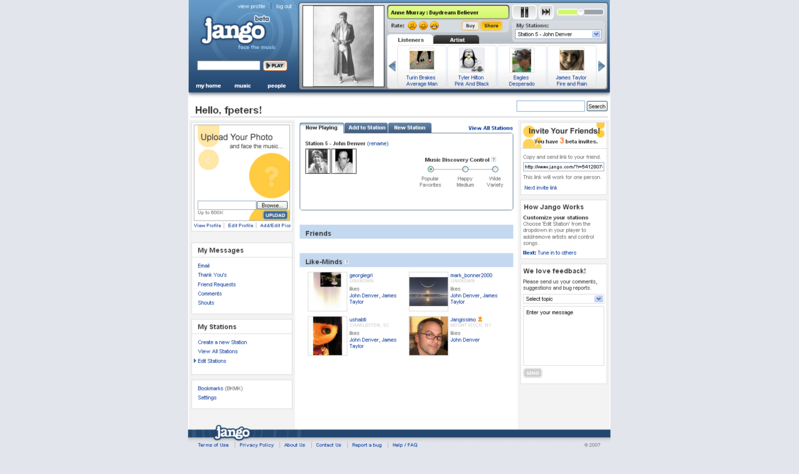 Now for the social. Jango shows you what other people are listening to. Jango also helps you get in touch with people who enjoy similar types of music. Listening to music becomes participatory. You share your likes with others and help them to discover new music. In the process you learn about new music too. Pretty cool.
You should sign up for the beta. I got my invitation the same day that I applied.
If you get in, tell me if you like it.
Update: I just received 500 invites to give away for Jango. If you would like to try it out, sign up for Jango using this link.